Nude Workshop with Anne Schwarzat during the Alanus Summer Academy - 2010

Study visit at Lake Constance - 2010
Every year, I spend one week at Lake Constance painting and experimenting.
Lake Constance is very special: calm, playful, moody, threatening. The inspiration of the water, as smooth as glass in the sun or churning in all colors ranging from turquoise to black; mountains of clouds hiding the other shore, and suddenly it is over again. The special appeal for me lies in painting very different lighting moods – depending on sun position and clouds.
At this location, I created many water colors, pastel and coal drawings – at the port of Langenargen, the Malerwinkel (painters' corner) or the swimming pool.
What fascinates me about water colors is the contrast between fast and slow – i.e. implementing the bathers resting near the water or the sail boats rolling in the waves via the quick technique of water color painting.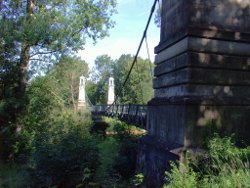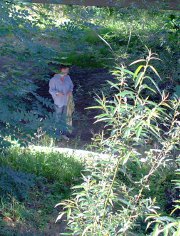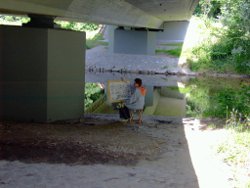 Despite the traffic, I enjoyed the quiet mood, sitting under a bridge and painting Germany's third oldest wire suspension bridge, that connects Kressbronn and Langenargen.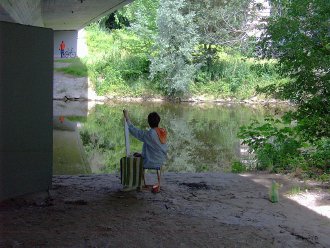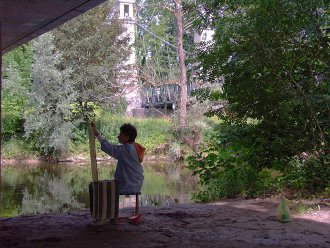 Art Project on Frankfurt Book Fair - 2010
Presented in a group exhibition for the opening of the new location of Galerie Rosemarie Bassi in the "Europäische Kulturzentrum Remagen"
The implementation of my project "Geheime Baumbotschaften" (Secret Tree Messages) required many individual steps, a variety of materials and techniques and several months of intensive work.
For the tree: wooden clothes rack, wire, paper boxes, polystyrene panels, newspaper, glue, cloths for snags.
For papier maché: paper flakes, pigment, and glue.
The steps necessary for creating the tree: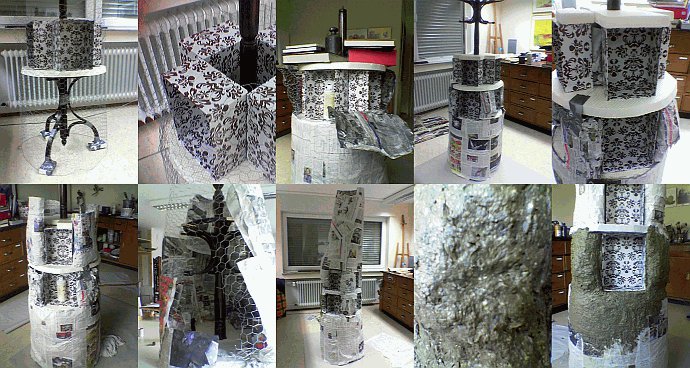 In addition to the tree, I created a number of individualized book people.
After wrapping these books in fly nets I applied dyed papier maché.

To round off the project, I created monotypes that close the circle between book – print – tree. I painted trees on glass using a spatula and copperplate etching ink.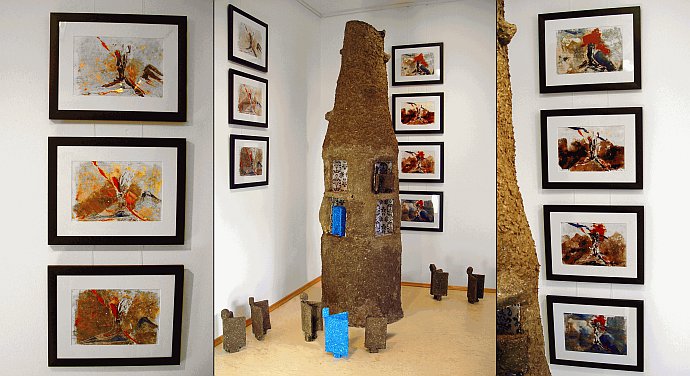 SECRET TREE MESSAGES

"read me"
BOOK TREE – TREE BOOKS
Tree – Wood – Paper – People – Inspiration

This installation represents and links both, our real and imaginary world and environment.

Paper is created from wood, from inspiration emerges the book which is created from paper from the tree.
The book gives rise to new ideas, a new message, new knowledge – a lasting value.
Our bodies, carriers of our ideas and our knowledge, are buried with us and represent the fertilizer for future
SECRET TREE MESSAGES

This installation is intended to serve as an inspiration.
Break new ground – a circle that spans from a known past to future possibilities.

The book people created by the artist with their pages yet to be filled call out to us:
"read me !"
inviting us to think, transform and create new values.

Rosemarie Bassi
EUROPÄISCHES KULTURZENTRUM
Galerie Rosemarie Bassi